4 tracks of relentlessly heavy occult doom. Anti-music to control minds.

available on:

digi cd

200 black and violet double vinyl with poster and backpatch

200 clear double vinyl

600 black double vinyl

PRE-ORDER is up at Rise Above now!

http://www.riseaboverecords.com
will have to buy the die hard version!

nice one! that is mine... i got some burial hex tapes from aurora borealis and the last LP 'initiations' is really good too.
http://www.aurora-b.com/shop.php
BURIAL HEX
'Initiations' 2LP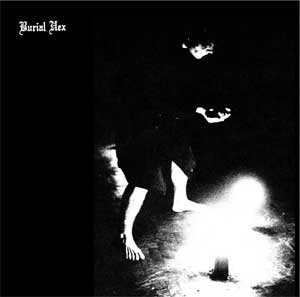 Clay Ruby. (feedback, voice, PAIA 4700, samples, microphones, homemade oscillators, metal, organs, earth, distortion, delay, insect, reverb, electric piano and analog tape)
Burial Hex first made itself known to Aurora Borealis a few years ago when browsing obscure blackened electronic treats online. The subsequent purchase delivered a rather bizarre cassette tape, totally without markings, and a cryptic, darkly printed simple cover bearing ancient symbols and occult schematics: "Curses of the Earth" indeed. It conjured all sorts of imaginings - nocturnal rites, lonely vigils with archaic analogue equipment, moonlight, madness...
In 2007 Aurora Borealis found itself face to face with Burial Hex across the strings of the ether, in communication via email, almost wholly by accident and coincidence. Taking this to be a sign, perhaps the hand of destiny, a deal was secured to release something. More instinct than reaction, no one knew what to expect. The "oppressive necro electronics" of the recordings heard so far gave little idea of what lay in store, of the new depths to be explored, the madness to be embraced.
"Initiations", the debut recording for Aurora Borealis, is a lengthy proposition. Clocking in at one hour, thirteen minutes, it represents a journey, a metaphysical odyssey of uncertain outcome. From the psycho-religious clamour of 'Will to the chapel' with its jihadic cries, through to the somnambulant, subterranean oscillations of 'Eight pentacles', the way ahead is far from clear, the atmosphere claustrophobic and threatening. 'The river of Los' showcases a new breadth of vision for Burial Hex with layers of undulating analogue synth and gentle percussion, an opiate addled take on the horror electronics hinted at previously, and perhaps an indication of things to come. This long track takes the listener on a river journey, part Apocalypse Now!, part Orpheus in the Underworld, submerged in Carpenter's dense Fog, slow moving discomfort and ague. The album ends with the half speed collisions, static miasma and white noise squawl of 'Bo -II- Ne', the listener deposited on shores unknown, prostrate at the feet of the infinite mystery.
Burial Hex has surpassed all expectation with "Initiations": Kneel, o ye acolytes, before an astral-industrial opus of vast depth and occult magnitude.
Double LP, 180g black vinyl housed in black card disco bags with a wrap around black sleeve. Variation on the CD cover art, hand screenprinted in white ink. Two inserts. In poly bag.
Last edited by ladiesgetmoist on Sat May 17, 2008 4:59 am; edited 1 time in total (Reason for editing : image)
not to be rude, but i didnt get what you ment with "thats mine"?

I did fancy the Burial Hex LP's from AB, hmm might have to check em out.
haha i meant i'd pre-odered it and the rock dream triple purple vinyl..
got ya.
once my pay comes in im all over that. I also want to check out Burial Hex, so i might have to get both!

doubt I will get two mind, Psyclodia will kick the shit out of me, so just the one for now


---
Permissions in this forum:
You
cannot
reply to topics in this forum