Amplifier porn, please.
My electric contrabass (Lord Vader), Ashton BV300 (300 watts, all valve) and a home-brewed 1x18.
The Marshall SLP 100 is Rob's.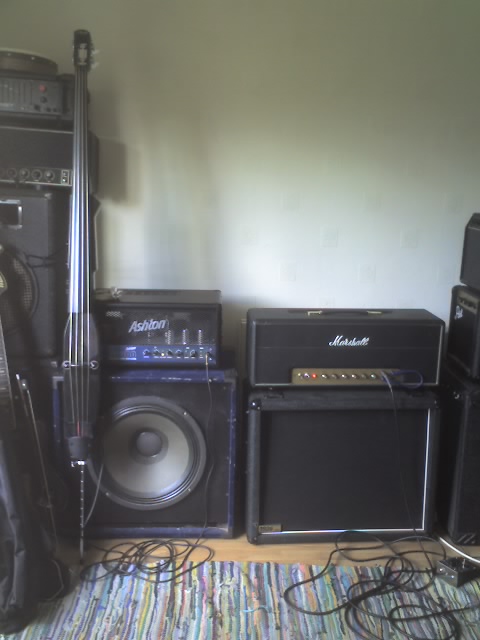 Peavey Century clean into 1x18 (now replaced with a 4x10) and the Muff through a '79 Acoustic B120 and 2x12.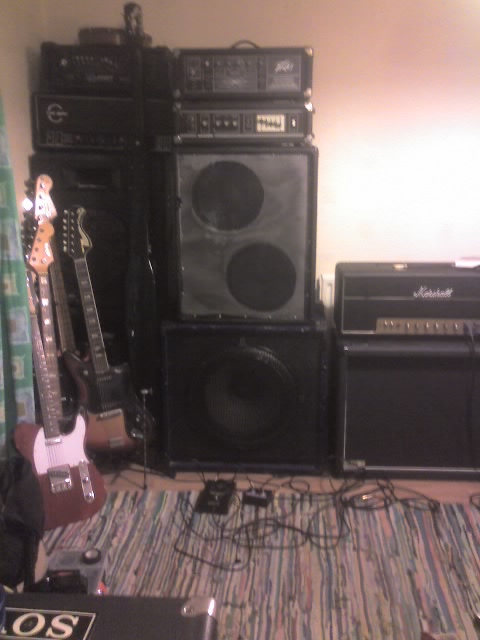 This is the Atomçk research and development dungeon:
As you can see it's a chud-bucket Marshall DGX into a battered 4x10 cab.
Effects wise I use a Metal Muff, sans amp and stuff that I have built myself: visible
HERE
the drums are mine
1970s slingerland, 24" kick, 14/15/18" toms, all tuned as low and as punishing as i can feasibly get them.
cymbals are (left to right)
sabian pro sonix 18" china, the cheapest shittest cymbal i've ever owned and it sounds awesome!
zildjian K 13" hats. would like 14s but, hey, i
found
the fuckers. which makes them about £350 cheaper than the 14s.
zildjian a custom 20" ride (90s)
zildjian a custom 17" crash (modern)
zildjian 18" china boy low (old but unsure of age, looks 90s)
istanbul mehmet 18" crash (the finest cymbal i own, handmade, and costs less than any of that zildjian machine made shit)
currently going for an istanbul endorsement (i also play drums for someone with a proper record label and shit) so hoping to clear out a lot of that zildjian junk (the Ks can stay) and get some decent hand made pies in there !

Statick




Posts

: 4


Join date

: 2008-05-21



oh the heads are a 5150 and a vintage modern

Statick




Posts

: 4


Join date

: 2008-05-21



Cheap cymbals are the nuts! or is the latest term "shiny". I'm really into stagg DH crashes at the mo, got a real trashy edge to them which i cant get enough of. Although, If your getting an endorsement give us a shout when you "give away" any of those beauties.


max von beek




Posts

: 27


Join date

: 2008-05-20




Andi




Posts

: 36


Join date

: 2008-04-04



I've just put die cast hoops on my snare drum. Does that mean I can call it 'custom' now?
Please can I......


max von beek




Posts

: 27


Join date

: 2008-05-20




---
Permissions in this forum:
You
cannot
reply to topics in this forum